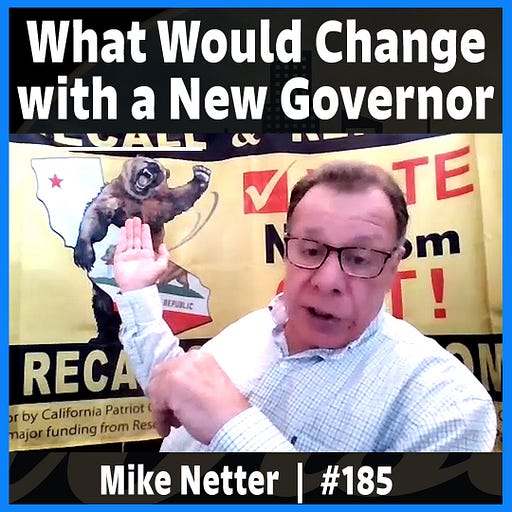 Aug 18, 2021 • 1HR 5M
What Would Change with a New Governor with Mike Netter
Wisco Weekly is a business education and entrepreneurship podcast hosted by Dennis Wisco. Over 80 Apple Podcast reviews, and 4.7 out of 5 stars.
Mike Netter runs on the same team as Orrin Heatlie of the Recall Newsom Campaign. Mike is a visionary sales leader and rainmaker with a passion for politics. He is using his skills to help create a better political landscape.
In episode #185, Mike and Dennis cover the California business economy and essentially, seek to answer the question 'what would change with replacing Newsom with someone else?'
Episode Notes:
Recall Newsom Campaign Website -- recallgavin2020.com
Ballotpedia -- https://ballotpedia.org/Gavin_Newsom_recall,_Governor_of_California_(2019-2021)
Recall Townhall -- Streaming every Wednesday at 6:30-7:30 on Facebook and Zoom
Friday Night at the French Laundry Show -- https://www.kabc.com/friday-night-at-the-french-laundry/
For bonus, ad-free episodes that deliver actionable insights, become a paid-NYFE subscriber for $8.49 a month or $93.99 a year on Apple Podcasts. Start with a 3-day trial and cancel anytime. Our subscriber-only content will jack you up to work, generate new ideas, and add perspective to consistently produce. 
Wisco Weekly is a business podcast, and is part of the 'Not Your Father's Economy' podcast channel on Apple Podcasts. Host, Dennis Wisco, shares weekly insights into current economic conditions like navigating this post-COVID economy.
Wisco Weekly is proudly supported by automotiveMastermind. Visit automotivemastermind.com to learn more about predictive analytics and marketing automation.