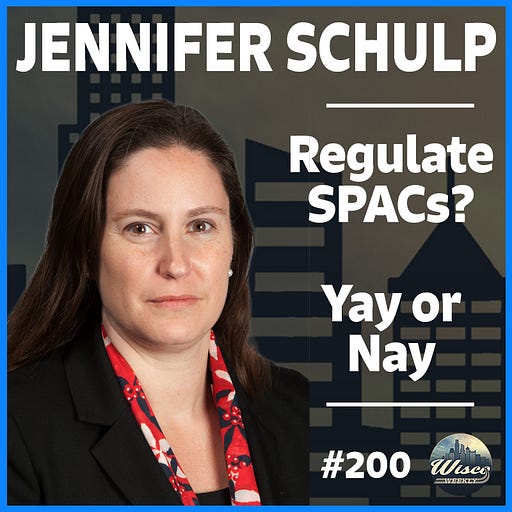 Dec 29, 2021 • 1HR 4M
To Regulate or Not To Regulate SPACs with Jennifer Schulp
Wisco Weekly is a business education and entrepreneurship podcast hosted by Dennis Wisco. Over 80 Apple Podcast reviews, and 4.7 out of 5 stars.
Special Purpose Acquisition Companies, or SPACs, have been a hot ticket item for private companies to go public since 2019. Three hundred deals have been completed totaling $540 billion. This type of activity has triggered SEC Chair, Gary Gensler, to scrutinize these deals and propose new recommendations as a way to better protect investors. Sounds great, right? Jennifer Schulp, Director of Financial Regulation Studies at the libertarian think tank Cato Institute, doesn't think so. Tune in to hear her counter argument to Chair Gensler's proposed recommendations.
Stay tuned for an investor education episode on SPAC investing. This bonus episode will be available to subscribers only on Apple Podcasts.
***** 
Episode Notes
Related Episode
SPAC Retail Investor or Board of Director  |  https://tinyurl.com/z6sepdxp
*****
Wisco Weekly is an automotive business podcast, and is part of the 'Not Your Father's Economy' podcast channel on Apple Podcasts. Host, Dennis Wisco, shares weekly insights into current economic conditions like navigating this post-COVID economy.
For bonus, ad-free episodes that deliver actionable insights, become a paid-NYFE subscriber for $8.49 a month or $93.99 a year on Apple Podcasts. Start with a 3-day trial and cancel anytime. Our subscriber-only content will jack you up to work, generate new ideas, and add perspective to consistently produce. 
*****
Wisco Weekly is proudly supported by automotiveMastermind. Visit automotivemastermind.com to learn more about predictive analytics and marketing automation. 
Have a listen to 'Predicting the Next Paycheck' a podcast mini series assessing the behaviors of car dealers, and their data-inspired decisions. Available on Apple Podcasts, Spotify, and other popular apps.
Predicting the Next Paycheck  |  https://tinyurl.com/2p8uzzrc
*****
For more content, follow Dennis Wisco on Instagram (@wisco_dennis), Youtube (@wiscoweekly), and LinkedIn (@wiscoweekly).