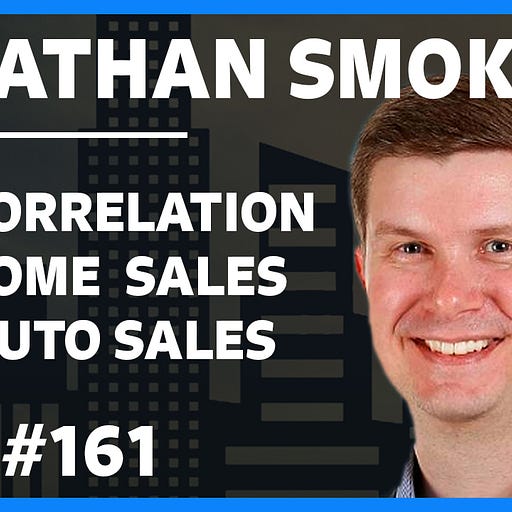 Feb 3, 2021 • 1HR 12M
The Correlation of Home Sales to Auto Sales feat. Jonathan Smoke
Wisco Weekly is a business education and entrepreneurship podcast hosted by Dennis Wisco. Over 80 Apple Podcast reviews, and 4.7 out of 5 stars.
A prior economist at Realtor.com and currently serving as the Chief Economist at Cox Automotive, Jonathan Smoke shares some valuable macro trends that we can follow as a result of the booming housing market. Tune in to hear about the democratization of car ownership versus home ownership, credit worthiness, interest rates and inflation, and the latest index developed by Jonathan's team, the Vehicle Affordability Index.
About Jonathan Smoke leads Cox Automotive's economic industry insights office. This office is tasked with leveraging data to expand Cox Automotive's deep expertise in all aspects of the automotive industry. His focus is to connect the data from all of the company's businesses and platforms and relate to economic, industry and demographic trends.
Prior to joining Cox Automotive, Smoke served as Realtor.com's chief economist. Before that, he was the chief economist for Hanley Wood, a media and market intelligence company, and also served in a variety of roles at Beazer Homes, including senior vice president of strategy and innovation.
Smoke was named one of "the 21 most interesting people in real estate" by 
Inman News
 and was the only economist to make the list in 2016. He is quoted in national news outlets and has published more than 150 original articles. Smoke blogs regularly and tweets using Twitter handle @SmokeonCars to share his industry insights.
Smoke holds a bachelor's degree in economics and religious studies from Rhodes College and a master's degree in business from The University of Texas at Austin.
Related Episodes
Notes  |  Resources
***** Wisco Weekly *****
Founder and Host, Dennis Wisco, takes his
Business Class
listeners through the culture and society of automotive business. Subscribe and follow the money to know where you can
#maketheinvestment
.
✌(-‿-)✌