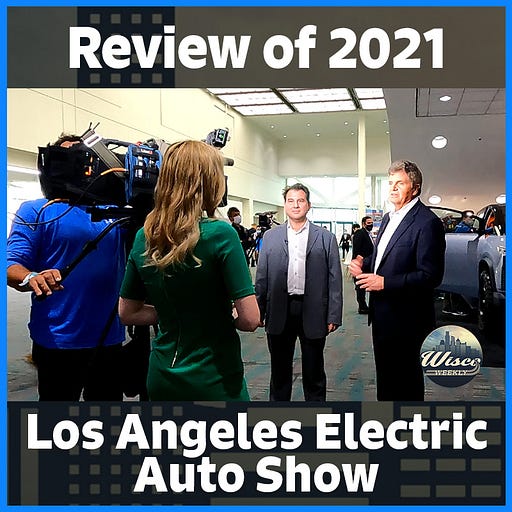 Dec 3, 2021 • 44M
Review of the 2021 LA EV Show with Joseph Mitchell and Ron Iacobelli
Wisco Weekly is a business education and entrepreneurship podcast hosted by Dennis Wisco. Over 80 Apple Podcast reviews, and 4.7 out of 5 stars.
With the conclusion of the 2021 Los Angeles Auto Show, let's revisit it and review the electric side of things. Included in this two-part episode is an interview with Phoenix Motors and Edison Future's CEO, Joseph Mitchell, and their CTO, Ron Iacobelli. 
In the second part of the episode, Dennis compares the EV production timelines and expected delivery dates to the macro economy at large. The electric mobility space is ripe for big winners but there is a looming question that has not been solved yet. Tune in to episode #197.
*****
Wisco Weekly is an automotive business podcast, and is part of the 'Not Your Father's Economy' podcast channel on Apple Podcasts. Host, Dennis Wisco, shares weekly insights into current economic conditions like navigating this post-COVID economy.
For bonus, ad-free episodes that deliver actionable insights, become a paid-NYFE subscriber for $8.49 a month or $93.99 a year on Apple Podcasts. Start with a 3-day trial and cancel anytime. Our subscriber-only content will jack you up to work, generate new ideas, and add perspective to consistently produce. 
*****
Wisco Weekly is proudly supported by automotiveMastermind. Visit automotivemastermind.com to learn more about predictive analytics and marketing automation. 
Have a listen to 'Predicting the Next Paycheck' a podcast mini series assessing the behaviors of car dealers, and their data-inspired decisions. Available on Apple Podcasts, Spotify, and other popular apps.
*****
For more content, follow Dennis Wisco on Instagram (@wisco_dennis), Youtube (@wiscoweekly), and LinkedIn (@wiscoweekly).