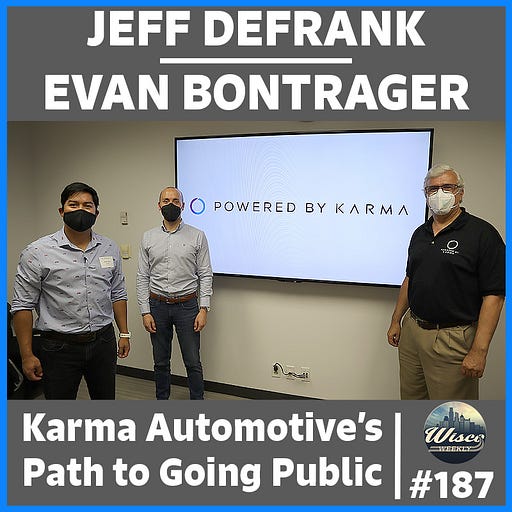 Oct 20, 2021 • 51M
Karma Automotive's Path to Going Public
Wisco Weekly is a business education and entrepreneurship podcast hosted by Dennis Wisco. Over 80 Apple Podcast reviews, and 4.7 out of 5 stars.
The two guests featured on Wisco Weekly are like-minded individuals who both share a background in business consulting. From there, they diverge in their professional experiences and  bring complementary perspectives to the table.
Evan Bontrager studied economics and business at Kalamazoo College, and managerial economics and strategy at London School of Economics. His work experience spans the roles of business owner, wealth manager, asset manager, and business development. Currently he serves as the Director of Business Development at Karma Automotive.
Jeff DeFrank studied mechanical engineering at State University of New York at Buffalo. His work experience includes vehicle engineering at Tesla, Chief Technology Officer at Alt-e Technologies, a company he helped co-found. And now he serves as Director of Technology Assessment at Karma Automotive.
*****
Episode Notes
> Powered by Karma -- https://www.karma-technology.com/
*****
Wisco Weekly is an automotive business podcast, and is part of the 'Not Your Father's Economy' podcast channel on Apple Podcasts. Host, Dennis Wisco, shares weekly insights into current economic conditions like navigating this post-COVID economy.
For bonus, ad-free episodes that deliver actionable insights, become a paid-NYFE subscriber for $8.49 a month or $93.99 a year on Apple Podcasts. Start with a 3-day trial and cancel anytime. Our subscriber-only content will jack you up to work, generate new ideas, and add perspective to consistently produce. 
*****
Wisco Weekly is proudly supported by automotiveMastermind. Visit automotivemastermind.com to learn more about predictive analytics and marketing automation. 
*****
For more content, follow Dennis Wisco on Instagram, Youtube, and LinkedIn.