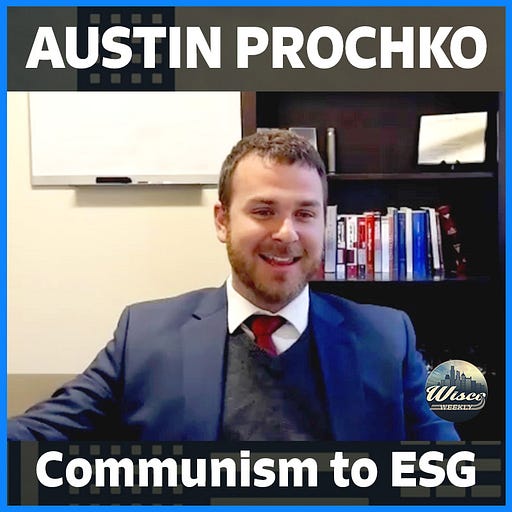 Dec 8, 2021 • 1HR 12M
From Communism to ESGs with Austin Prochko
Wisco Weekly is a business education and entrepreneurship podcast hosted by Dennis Wisco. Over 80 Apple Podcast reviews, and 4.7 out of 5 stars.
"Communism, in all its forms, misleads, divides, and destroys." - Austin Prochko
Oral tradition is a lost art, which is why it's important to bring forth the voices that still honor this tradition. In episode #198, Austin Prochko shares his grandmother's Communist stories that not only impact him personally, but how Communism seeps its way into US corporate culture that may affect him and the future of his 1-year old son. Tune in to hear how Austin's grandmother's stories play out in today's US corporate culture.
*****
Episode Notes
*****
Wisco Weekly is an automotive business podcast, and is part of the 'Not Your Father's Economy' podcast channel on Apple Podcasts. Host, Dennis Wisco, shares weekly insights into current economic conditions like navigating this post-COVID economy.
For bonus, ad-free episodes that deliver actionable insights, become a paid-NYFE subscriber for $8.49 a month or $93.99 a year on Apple Podcasts. Start with a 3-day trial and cancel anytime. Our subscriber-only content will jack you up to work, generate new ideas, and add perspective to consistently produce. 
*****
Wisco Weekly is proudly supported by automotiveMastermind. Visit automotivemastermind.com to learn more about predictive analytics and marketing automation. 
Have a listen to 'Predicting the Next Paycheck' a podcast mini series assessing the behaviors of car dealers, and their data-inspired decisions. Available on Apple Podcasts, Spotify, and other popular apps.
Predicting the Next Paycheck  |  https://tinyurl.com/2p8uzzrc
*****
For more content, follow Dennis Wisco on Instagram (@wisco_dennis), Youtube (@wiscoweekly), and LinkedIn (@wiscoweekly).