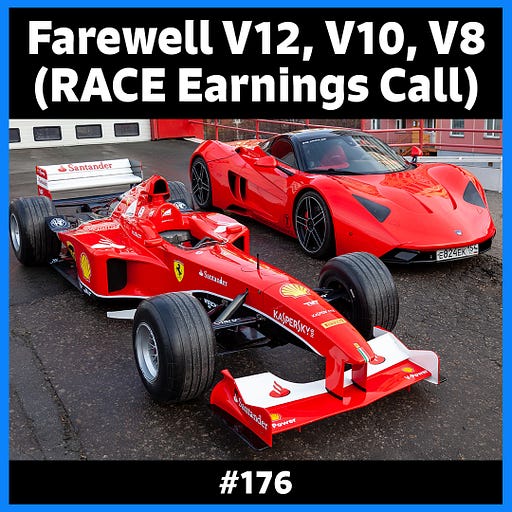 May 5, 2021 • 26M
Farewell V12, V10, V8 (RACE Earnings Call)
Wisco Weekly is a business education and entrepreneurship podcast hosted by Dennis Wisco. Over 80 Apple Podcast reviews, and 4.7 out of 5 stars.
Ferrrari (NYSE: RACE) reported Quarter 1 earnings for 2021 on Tuesday, May 4th. While the launch of 15 Ferrari models over the next two years will not be disrupted due to the pandemic, they face a bigger competitor which affects their long-term value. Current Chairman and Interim CEO, John Elkann, disclose some of the conversations that Ferrari and Formula 1 are having that will potentially make changes to Formula 1 and hence, Ferrari's production line.
Notes  |  Resources
***** Wisco Weekly ***** By Automotive Executives, For Automotive Entrepreneurs
Founder and Host, Dennis Wisco, takes his
Business Class
listeners through the culture and society of automotive business. Subscribe and follow the money to know where you can
#maketheinvestment.
Wisco Weekly is proudly supported by automotiveMastermind. Visit automotivemastermind.com to learn more about predictive analytics and marketing automation.
✌(-‿-)✌