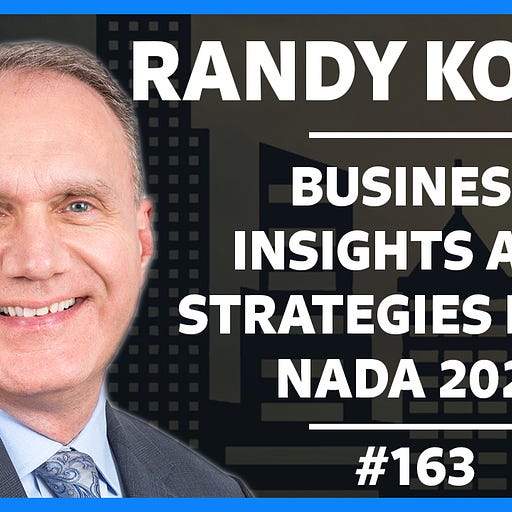 Feb 17, 2021 • 1HR 1M
Business Insights and Strategies from NADA 2021 feat. Randy Kobat
Wisco Weekly is a business education and entrepreneurship podcast hosted by Dennis Wisco. Over 80 Apple Podcast reviews, and 4.7 out of 5 stars.
Senior Vice President of Operations at vAuto, Randy Kobat guests on episode #163 of Wisco Weekly which recaps and analyzes NADA 2021. Randy and Dennis weigh in on the franchise business model versus franchise law, discuss if business schools are meeting the needs of the automotive industry, and Randy shares where he would invest his money that would be most meaningful to him.
About Randy Kobat Randy Kobat is vice president of operations and inventory management solutions for vAuto, Rebates & Incentives, KBB ICO and related products. In this role, Randy oversees all aspects of operations and performance for these companies and segments of Cox Automotive, helping them meet their respective goals for growth, product development and integration, and customer and employee satisfaction. Randy brings a unique blend of executive leadership expertise to vAuto that includes long-term planning, marketing, mergers and acquisitions, operations, sales management, and strategy development.
Prior to joining Cox Automotive, Randy successfully held a variety of top-level leadership positions for automotive-related companies including Service Repair Solutions Inc., Trilogy Enterprises and CDK. Randy has also served as a business leadership lecturer for the Smeal College of Business at Pennsylvania State University, the Wisconsin School of Business at the University of Wisconsin–Madison, and other business schools.
Randy earned a Bachelor of Science in chemistry from Northern Illinois University and an MBA from The University of Chicago Booth School of Business.
Related Episodes
Notes  |  Resources
***** Wisco Weekly *****
Founder and Host, Dennis Wisco, takes his
Business Class
listeners through the culture and society of automotive business. Subscribe and follow the money to know where you can
#maketheinvestment
.
✌(-‿-)✌